---
The LEARN Lab studies questions such as:
Can adding brain measures to assessment allow us to identify children who will develop language, learning, or reading disorders, even before we can usually diagnose that disorder?
How does the brain become specialized for the things that make us human, like recognizing faces and reading words?
Can brain measures help us to determine which children will benefit from a certain intervention?
Current studies include opportunities for
– families with toddlers (18-36 months) to use an app that may promote language development
– children age 4-10 years of all language abilities
– children ages 8-10 of all reading abilities, especially struggling readers
– toddlers age 24-36 months and their parents to examine similarity in brainwaves during communication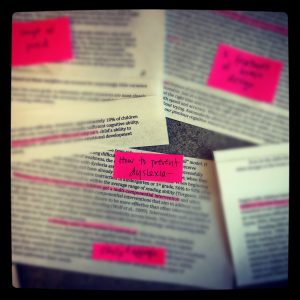 You can go to the publications page to view and download our publications.
If you are interested in participating in our research, please contact learnlab@northwestern.edu and join the Communication Research Registry at Northwestern.
If you are interested in joining the lab, please contact Dr. Norton.
SaveSave
SaveSave
SaveSave